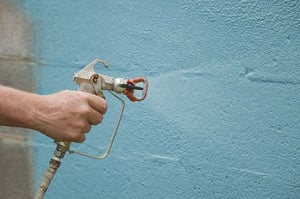 Air leakage resistance and moisture control are important elements of wall design. Preventing leakage and enhancing the drying potential of wall assemblies can minimize the risk of water damage from condensation.
Enter Sto Corp.'s StoGuard AirSeal, a high-build, vapor-permeable fluid-applied membrane designed for application over CMU and sheathing. It can also be used under various claddings, including StoTherm ci, stucco, metal panels, cement board, vinyl, wood, brick and stone. StoGuard AirSeal is part of the StoGuard air barrier and moisture barrier family of products.
StoGuard AirSeal is applied quickly and easily with an airless sprayer or roller—no need for specialized equipment. It can be applied to a continuous 40 mil DFT (Dry Film Thickness). The product does not contain harmful solvents; it is water-based with low VOCs. It is safe to apply and environmentally friendly. As part of the StoGuard System, AirSeal includes rough open protection that is optimized for various conditions and trades. It also will not tear or lose effectiveness when in use, and resists UV degradation for up to six months.