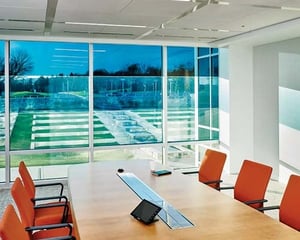 Call it good news, bad news: Windows, providers of the biggest source of natural light and warmth in a home, are also the biggest source of unwanted heat in the summer and lost heat during the winter. SageGlass's updated "smart" glass handles both situations with ease. The company's electrochromic product, LightZone, allows homeowners to control which sections of a window tint during exposure to sunlight, and the degree to which it darkens. This can help reduce the home's overall energy load by up to 26 percent during peak hours.
Available in sheets of up to 5 feet-by-10 feet, LightZone has three tint zones that can be handled automatically, with pre-programmed settings to manage light, glare, energy use and color rendering, or controlled manually via a wall panel or the SageGlass mobile app. Controls can also be integrated into an existing building automation system.
LightZone runs low-voltage electricity through a five-layer electrochromic coating about 1/50th the thickness of a human hair to control the degree of tint. Applying a low voltage darkens the coating as lithium ions and electrons transfer from one electrochromic layer to another. Removing voltage, and reversing its polarity, returns the ions and electrons to their original layers, lightening the glass to its clear state.
The homeowner's utility bill will only go down when using SageGlass. Electricity use for the windows is practically nil: It takes less electricity to operate 2,000 square feet of SageGlass than to power a single 60-watt light bulb.