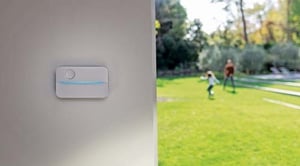 The Rachio 3 Smart Watering Controller takes the guesswork out of watering with a unique platform that combines smart sprinkler control, wireless leak detection, enhanced weather data and powerful smart technology in one easy-to-use system.
The product's Rachio Wireless Flow Meter, the industry's first such meter for residential use, utilizes patented Vortex technology to obtain highly accurate readings of water flow. The Rachio app alerts homeowners when leaks are detected, and the Flow Meter automatically shuts down water supply, protecting against landscape damage and flooding.
A related app, the Rachio 3 Smart Sprinkler Controller, enables users to give precise watering commands, ranging from basic start, stop, pause and skip zone instructions, to a custom-run schedule for specific regions. It will also recommend days and times for watering based on location, vegetation and soil type. Such an exact process dramatically cuts down on residential water waste, 60 percent of which occurs outdoors.
The sprinkler controller also functions with popular smart home systems and voice services, including Amazon Alexa. Users can control their intelligent sprinklers simply by using their voice, helping to further improve water efficiency in the home.