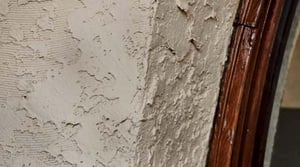 Use of pre-blended concrete products just got a bit easier and less expensive. Quikrete has unveiled Lightweight Fiberglass Reinforced Stucco (FRS), which is reportedly the lightest and most sustainable stucco on the market.
FRS is 35 percent lighter than traditional pre-blended stuccos, making it easier and faster to transport, stage, mix, pump, place and finish. It's also safer: Working with lighter bags decreases fatigue, increases speed and prevents mistakes, improving overall productivity on jobs—and profitability.
The Quikrete product is a Portland cement-based plaster blended with recycled, coated Expanded Polystyrene (EPS) beads, uniformly graded sand, and alkali-resistant glass fibers. FRS is one-hour fire rated and contributes to U.S. Green Building Council LEED credits.
FRS is available in 50-pound bags and 1,950-pound bulk bags that can be troweled or spray applied on traditional three-coat scratch, brown and finish systems, from 3/8 inch to 7/8 inch, as well as one-coat systems. One 50-pound bag yields the equivalent coverage area of a traditional 80-pound bag of pre-blended stucco.