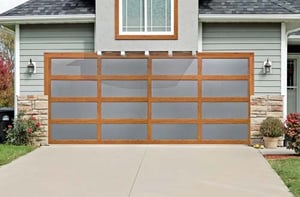 Insulated garage doors are a great way to save energy, as they help keep inside temperature constant in one of the home's least-efficient locales. But they don't always look better than average from the outside. That's why Overhead Door, a leading maker of residential garage doors, has expanded its Thermacore Collection with bi-directional wood grain finish options on its most-premium insulated garage doors.
The Thermacore 490 Series, which features an R-value of 17.5—making them the most thermally efficient doors in the collection—now offers wood grain finishes in the colors of golden oak, walnut and mission oak. The 490 series consists of the company's standard panel (494), long panel (496) and V5 panel (497) product.
The embossed wood-grain texture adds beauty and sophistication to a door that is built to last with two layers of corrosion-resistant steel. Models 494, 496, and 497 meet IECC requirements for U-Factor and air infiltration, ensuring a thermally efficient solution for a broad range of residential applications.
The new styles give homeowners with a desire for stained wood doors an attractive and low maintenance option. Wood grain finishes can also be paired with optional vertical or horizontal windows and decorative hardware, including handles and hinges, for a more-customized look.