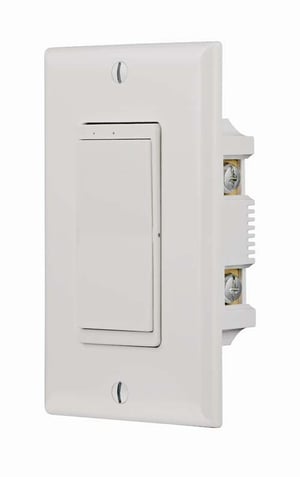 With NSi Industries' TORK Smart in-Wall Switch, it's a case of the more, the merrier. In addition to all of the classic smart control features, TORK and its mobile app allow homeowners to create lighting scenes by interconnecting multiple devices together—perfect for holiday displays—but not breaking the bank when it comes to the utility bill.
Using the app, homeowners can also remotely turn on or off lighting, ceiling fans and small appliances—anything connected to the wall switch—from anywhere in the world via tablet or smartphone. The app is compatible with iOS and Android devices.
Wi-Fi technology allows homeowners to set schedules for turning lighting on and off at a particular time. This helps improve security and save energy, especially with easily forgotten small appliances. Users may also schedule different times each day of the week if desired.
The product installs in a standard junction box and allows manual control of light switches and appliances as well as the mobile app. No special wiring required, as the stand-alone control works with all pre-wire definitions and is updated for Wi-Fi controls through the mobile app.
TORK Smart in-Wall Switch is compatible with any floor/table lamps or recessed downlights using LED, compact fluorescent or incandescent lamp sources. The product also works with the voice-controlled Google Assistant app and Amazon Alexa devices to further enhance control.