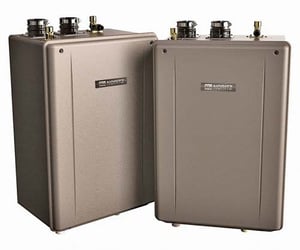 Engineered expressly for the North American residential market, Noritz's EZ Series of high-efficiency, condensing tankless water heaters are designed to cut installation time and cost when replacing larger, storage tank-type units. The product line has expanded with the release of the Energy Star-certified EZ98-DV and EZ111-DV models.
The EZ98-DV has a maximum input of 180,000 BTUs per hour (BTU/hour) and a maximum flow rate of 9.8 gallons per minute (gpm), making it suitable for homes with up to three baths. The EZ111-DV, with inputs up to 199,900 BTU/hour and flow rates to 11.1 gpm, is intended for homes with up to four baths.
Like the EZTR40, unveiled in 2014, the two larger models offer exclusive features intended to ease the installer's job and lessen the homeowner's up-front investment. These include top-mount, hot- and cold-water connections that sharply reduce the amount of new plumbing work required by a tankless-for-tank replacement; maximum venting flexibility with four different options, including outdoor (OD), direct vent (DV), single vent (SV) and 2-inch flex vent, which utilizes the existing B-Vent formerly used by the tank water heater being replaced; and the possibility of reusing the tank unit's half-inch gas line, thus avoiding the substantial expense of running a new gas line.
Both new EZ models have hot- and cold- water connections located on top of the unit—not the bottom, like most tankless heaters. This positioning allows the flexible water lines used by the previous tank heater to be quickly and easily reconnected to the new unit. This saves time and money traditionally spent purchasing and running new plumbing around the tankless unit, and gives the final application a cleaner look.