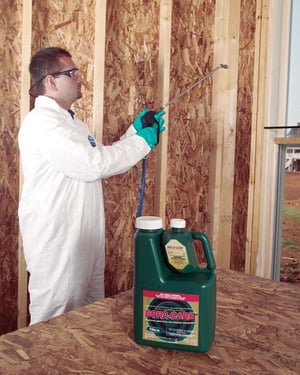 While many things green relate to nature, one natural item—mold—is not on the welcome list. It can grow unseen in a home inside wall voids and create a dangerous indoor air quality health hazard for homeowners, and severely degrade the integrity of the structure. Nisus Corp.'s Bora-Care with Mold-Care fungi treatment is an environmentally friendly way to prevent the "dark matter."
Applied by a pest company during the dried-in phase of construction, Bora-Care does its protective work in only a few hours, meaning no slowdown to the building schedule. It's a crucial fix, as wood is generally the largest single investment in a home, and there is only one opportunity to treat all of it. Just a 10 percent weight loss from wood decay can mean up to a 50 percent loss of strength in one piece of wood.
Because Bora-Care's active ingredient is a disodium octoborate tetrahydrate (DOT)—a non-synthetic, borate mineral salt—it doesn't break down over time and remains in the wood for a lifetime, providing long-term residual protection. There's also no harmful infiltration into the soil.
Bora-Care also takes care of another pest, termites, in a similarly Earth-happy fashion. Only a few gallons are required to completing treat the home's structure, and it's applied directly to the wood. In contrast, typical termite killers require hundreds of gallons that must be pumped into the soil around the house.
Using the anti-fungal agent can also gain a builder points in green building programs such as LEED for Homes, NGBS Green Product Certification Program, EarthCraft and others.