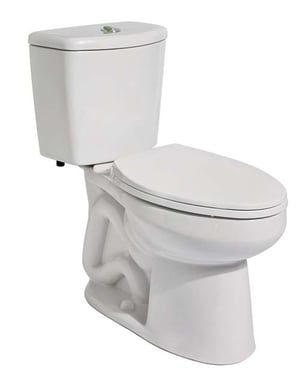 Sometimes plain is perfect. Niagara Conservation describes its products as "not sexy, but extremely effective," and that's what it delivers with the Nano—reportedly the most water-efficient toilet on the planet. Featuring patented vacuum-assist flush technology (which leaves behind a clean bowl every time) and highly innovative Stealth Technology, the Nano only utilizes an average of 0.6 gallons per flush and has a noise-cancelling tank. The toilet's compact design maintains the comfort of an elongated bowl, making it perfect for smaller spaces.
The Nano is WaterSense certified, MaP premium rated, and certified by the American Society of Mechanical Engineers.
The Nano is the latest in the Niagara Conservation's portfolio of products that seeks to save the world's water through everyday ingenuity. While there's a push across the industry for products that support technologies, such as smartphones or Amazon's Alexa, Niagara prefers to invest in developing technologies and products that conserve natural resources.