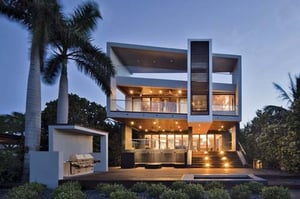 Hurricane-force winds are no friends to windows. But the NanaWall Systems SL73 glass wall has proved a worthwhile ally. SL73 has received high ratings on static and dynamic pressure water resistance tests, and is tested to demanding standards for preventing water, wind and debris from entering the building—not only at the ground level, but up to 15 stories. Homeowners and business owners in hurricane-prone areas can enjoy their views while remaining safe and dry.
With reinforced vertical posts or astragals down each panel side for added performance, the glass walls pivot on and are hinged to either side of the vertical post, providing strength against high winds and water. The product is also floor supported, which provides extra stability during storms. High-performance raised sills prevent static and dynamic water penetration, and yield higher pressure ratings against heavy wind loads. And, specialized seals and panel design provide superior wind and rain resistance, while the engineered sills prevent wind-driven water from entering the home or business.
In addition, NanaWall's multi-point locking system includes top and bottom locking rods that securely insert into the upper and lower frame to prevent vandalism and burglary once post-storm cleanup efforts are underway.