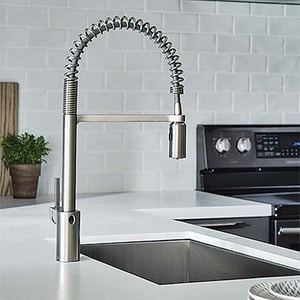 Moen's Align Spring pull-down kitchen faucet provides a look fit for an industrial kitchen, but with the reach and flexibility required for residential use. The fixture is now available with Moen's new MotionSense Wave technology, which offers a hands-free experience and provides water when users need it most with just a wave of the hand.
Faucets with this touchless technology are ideal when users' hands are too full or too messy to turn on the faucet. This innovation also minimizes the spread of dirt and germs, as there is no need to touch the fixture to start the flow of water.
The unit's Wave Sensor turns water on or off with the wave of a hand, for easy, instant motion-activated control. The sensor also automatically turns off water after two minutes, which allows for a reduction of water usage. The handle on the opposite side of the faucet offers manual operation, letting users adjust flow and temperature.
The Align Spring pull-down faucet with MotionSense Wave is available with Moen's exclusive Spot Resist Stainless finish, which resists fingerprints and water spots to maintain the fixture's brilliance.