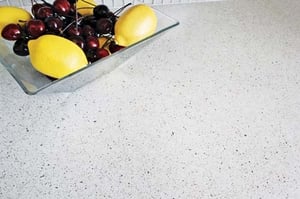 Engineered to contain as much waste stream ingredients as possible, extremeconcrete materials allow creation of LEED-contributing architectural products and surfaces while achieving the natural aesthetics and material properties of High Performance Concrete (HPC). Vibrant, fluid and textural, extremeconcrete can be infused with a variety of pigments and recycled aggregates to provide unlimited color and material combinations to create unrivaled surfaces and distinctive products.
The proprietary product mix contains up to 85 percent recycled content. Designs can incorporate a variety of recycled or reclaimed elements diverted from the waste stream, such as finely ground by-products from the production of silicon or coal-fired power plants, crushed pre- or post-consumer glass, shredded circuit boards or plastics, stranded fabric or carpet fibers, and even certain construction site and demolition waste diverted directly from LEED projects.
To help reduce the carbon footprint, all extremeconcrete products use local sourcing, seeking materials from a 500-mile radius wherever possible. All materials are available in standard-sized slabs for fabrication, such as natural stone. The product is NSF/ANSI 51 certified, made in the U.S.A., and contributes to multiple LEED credits.