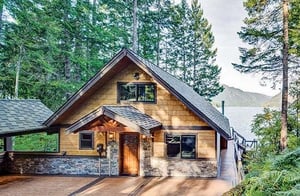 Call it wood without worries. LP Building Products' SmartSide Trim & Siding combines the warmth and beauty of traditional wood with the durability of treated, engineered wood.
Ideal for homes that are partially finished in stone, stucco or brick, SmartSide also meets the company's green products mandate via its construction from sustainably harvested wood.
Resins and binding agents used in the Sustainable Forestry Institute (SFI)-certified product result in an extremely low emittance level of Volatile Organic Compounds (VOCs). The product does not contain urea-formaldehyde. Manufacturing waste is kept to a minimum, with 99 percent of every log used for the product or as fuel to make it. And, the product can help builders and remodelers achieve certification points in a number of leading green building programs.
SmartSide is also no friend to termites or fungus—the company's SmartGuard process makes it strong enough to resist hail.