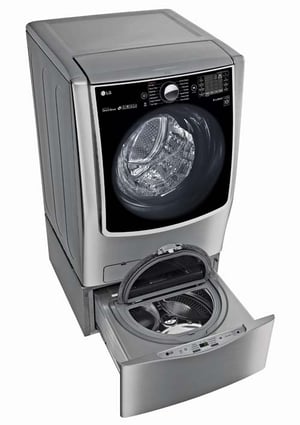 LG's TWINWash washing machine and its SideKick pedestal washer is all about saving water. The flagship front-load washer, Model WM9000, has earned Energy Star's "Most Efficient 2018" designation, awarded to products that deliver cutting-edge energy efficiency and the latest in technological innovation. With a total capacity of 6.2 cubic feet, this washer allows consumers to do more laundry in fewer loads, and its TurboWash technology saves up to 30 minutes on every wash cycle, thereby saving water and energy.
The unit's COLDWash feature uses six motions from the direct-drive motor to deliver warm-water cleaning performance with cold water. TWINWash has also been certified "asthma and allergy friendly" by the Asthma & Allergy Foundation of America, which recognizes a product's ability to help control common household allergens, such as dust mites and pet dander.
The WM9000 is Wi-Fi enabled and compatible with LG's SmartThinQ app. This allows users to start and stop wash cycles remotely, receive notifications when laundry is done and be sent reminders about scheduled maintenance.
SideKick serves as an additional washing machine in the footprint of a laundry pedestal. This allows users to run two separate loads of laundry at the same time—an industry-first innovation pioneered by LG. Its compact size is ideal for special care items such as intimates and delicates. SideKick is also perfect for washing small loads when a full load seems wasteful.
And, SideKick and the main washer can operate simultaneously and independently, so the consumer can wash one load in hot and one load in cold water at the same time. Users can also start or stop one cycle without interrupting the other.