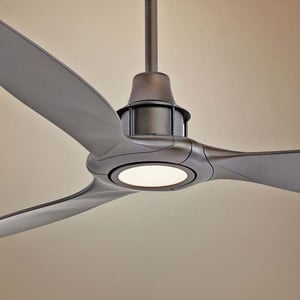 It's all about airflow with the Interceptor LED ceiling fan from Lamps Plus. With a damp rating for indoor or outdoor use, the oil-rubbed bronze LED fan circulates more than 7,000 cubic feet of hot and cold air every minute for maximum comfort, and illuminates with low-wattage LED.
Electricity use is a mere 35 watts, excluding the lights. Airflow efficiency is 214 cubic feet per minute per watt. The 58-inch blade span provides style and functionality while using nearly half the total energy of a 60-W incandescent bulb.
The three-blade Casa Vieja brand of ceiling fan includes the option to include or not include the LED light. The fan enables the ability to save energy during summer and winter: Cool air flows with the fan's counter-clockwise spin in summer. The fan's clockwise rotation enables warm air to rise in winter.
The fan can also be installed on a sloped or vaulted ceiling to about a 15 degree angle, allowing for use in almost any type of interior, and in some cases boosting the light output without requiring brighter bulbs and additional electricity.