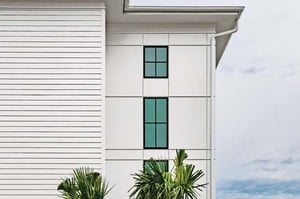 James Hardie's Aspyre Collection pairs two well-known home exterior product lines and creates a unit that is stylish, durable and Earth-friendly. Custom builders and architects can now use the thick, distinctive profiles of Artisan siding with the smooth, geometric Reveal Panel System to develop traditional to ultra-modern housing styles.
With Artisan siding, homeowners, builders and architects can expect the performance and durability of fiber cement with the traditional look of cedar. Unlike wood-based siding products which may rot, curl, warp or split from exposure to moisture, Artisan siding resists the harshest weather conditions. The product's 5/8-inch thickness and unique features provide a precise fit and finish, as well as the freedom to miter corners for attractive, streamlined styling.
The Reveal Panel System is a customizable system of durable, 7/16-inch-thick high-grade panels, trims and fasteners that can result in clean, simple lines that give homes a modern aesthetic. The panels are engineered for climate and are specifically formulated to stand up to the extreme weather conditions wherever they are installed.
The Aspyre Collection's manufacturing process relies on natural, sustainable raw materials that are low in toxicity. At least 75 percent of the raw materials used are locally sourced, and James Hardie's manufacturing facilities work to reduce the environmental impact caused by transportation of finished materials. Fiber cement is engineered for long life and resistance to damage from long-term exposure to water, heat and UV radiation. The company's products are also performance tested in two separate climate zones—an industry one-of-a-kind effort.