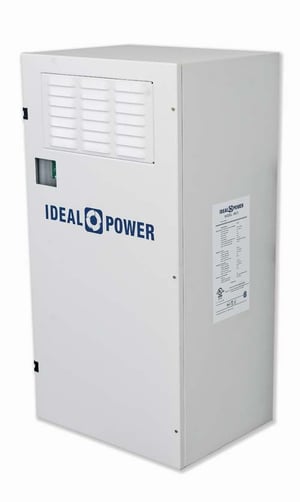 Connecting multiple energy resources can involve devices that are large in size and difficult to install, with limited system controls that complicate ongoing management. The 30 kW Stabiliti 30C3 multiport power conversion system addresses these issues by integrating several power inputs through a single power processing platform, removing redundancies and complications associated with conventional single-function power converters. The compact product saves space, weight and dramatically increases overall system efficiency. Like LED lighting, rainwater harvesting and energy-efficient appliances, the Stabiliti can make a big difference in new green building construction by earning LEED points for renewable energy integration and smart energy use.
Ideal Power's power conversion products, including Stabiliti, allow building owners, system integrators and project developers to manage energy use more cost-effectively and efficiently than traditional solutions on the market by integrating multiple sources of energy. Buildings can decrease their environmental footprint using a smart combination of energy sources, such as solar and energy storage, that minimize the facility's reliance on grid power during average and peak times. Additionally, this equipment package can deliver backup power to the building's critical loads when the grid goes down, minimizing or even eliminating the need for dirty and unreliable diesel backup generators.
The Stabiliti has a wide range of implementation opportunities and has especially benefitted customers on island nations that experience higher-than-average energy costs. For example, the cost of electricity on the Caribbean Islands averages about 50 cents per kilowatt-hour (kWh)—about three to five times that of the mainland U.S.