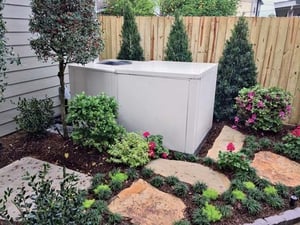 Recognizing the need for a cleaner, greener and more energy-efficient solution to home cooling and heating, Ice Energy has developed the Ice Bear 20, a home-optimized HVAC system that utilizes an ultra-high efficiency compressor along with an ice tank with heat exchanger.
The compressor can cool the home with traditional methods or store energy for cooling by freezing water in the ice tank. Once the freezing process is complete, the compressor can be turned off, and—without using any electricity to create cooling—the Ice Bear 20 will provide up to four hours of cooling to the entire home. The ice battery can be programmed to charge at night, when electricity is cheapest, and discharge for up to four hours the next day before defaulting back to the compressor.
Additionally, the Ice Bear 20 can integrate with a home solar PV system, utilizing the mid-day solar over-generation period to fully charge without using electricity from the grid.
Both processes serve as alternative solutions to running an air conditioner during the peak times of day when electricity is in greatest demand and, therefore, most expensive. Thirty-five percent of peak electric draw on summer days is due to the instantaneous creation of cooling.
Furthermore, when heating is required, the Ice Bear 20 can reverse its circuit, switching the compressor to operate as a heat pump to provide all the heating needed for the home.
The Ice Bear 20 allows homeowners to better utilize solar PV and reduce CO2 emissions by up to 1,000 pounds per year.