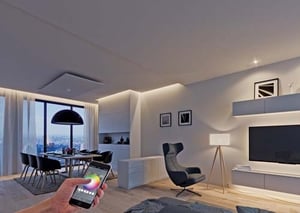 Just when it looks like household lighting couldn't get any smarter, Häfele raises the bar with its Loox LED Lighting System. Sure, indoor lights can be controlled with a Bluetooth-enabled smartphone or tablet. But opening a drawer or cabinet and having it immediately light up and then turn off when closed adds "Wow," as well and convenience and functionality.
The fun continues with Loox's strip lighting, which can be cut to fit into any furniture, closet or cabinet application, or spliced for longer runs of uninterrupted LED. And there is color "temperature" control, which provides the ability to set warm tones within a room or closet with a swipe of a finger. Users can also spotlight a specific region or item within a room with a quick-to-enter command.
Puck lights, typically a mainstay in kitchen, bath and closet applications, are available in surface-mounted or recess-mounted styles. These stylish, IP44-rated fixtures are ideal for any area prone to condensation, small splashes or moisture. Loox also offers an infrared, heat-sensitive toe-kick LED light which stays on in four-minute increments—perfect for safe treks down a dark hallway or stairwell.
Loox can be easily expanded with future Häfele apps and installations. Apps for the system are now available in the Android and iOS stores.