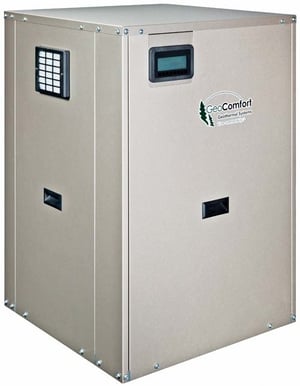 GeoComfort Geothermal Systems has unveiled a variable-speed water-to-water geothermal unit—the WV060—that can help homes more easily reach net-zero status.
The WV060 is reportedly six times more efficient than a standard electric water heater and 40 percent more efficient than already-effective standard geothermal heating and cooling systems. The all-in-one unit is capable of powering a home's radiant in-floor heating and cooling, forced air heating and cooling, pool heating and snowmelt efforts, as well as meet all domestic hot water needs on demand, making it perfect for smaller homes and owners that want only a single system to maintain.
An outdoor sensor relays constant temperature data to the unit, allowing it to use the lowest possible water temperatures for increased efficiencies, and eliminating temperature swings to perfectly match desired comfort settings. Additionally, this system allows for zoning in a home, so different areas in the house can be kept at different temperatures.
Homes with the goal of achieving net zero, or close to it, will benefit from this system. As a renewable energy, geothermal is an asset towards going net-zero since it does not burn any fossil fuels. The WV060 has built-in soft start technology, which makes it more efficient than a standard geothermal heat pump. Higher efficiencies require less electricity, which reduces the number of solar panels needed to power the home.
The unit's exclusive design includes triple compressor isolation, featuring elastomeric vibration absorption pads, a heavy-gauge compressor isolation plate and high-density rubber grommets—all of which makes the WV060 extremely quiet. This system is AHRI certified to ISO Standards and ETL certified to UL and CSA standards.