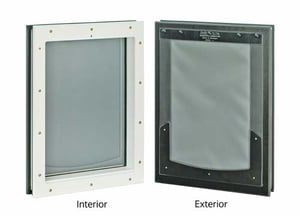 Air leaks can be anywhere—even where pets exit and enter. Freedom Pet Pass almost literally seals the deal with a pet door that is 15 times more airtight than human doors that meet Energy Star standards. Sustainability-minded owners can give their pets freedom to come and go as they please without wasting energy.
Freedom Pet Pass's DoubleMag seal technology creates a magnet-to-magnet airtight seal around the entire perimeter of the door, but remains easy for cats and dogs to use. The doors also have an insulated flap to reduce conductive energy loss. Freedom Pet Pass pet doors have a documented air leakage rate of 0.03 cubic feet of air per minute per square foot, an order of magnitude better than standards for windows and human doors. The pet doors have been tested using industry-accepted tests like ASTM E-283 for air leakage and NFRC 100 for U-factor to verify performance.
The impact of an energy-efficient pet door replacing an inefficient one can be huge. Laboratory testing has shown that the best-selling pet door leaks 16 cubic feet of air per minute per square foot at 50 Pa pressure. In contrast, Energy Star standards are 0.5 cfm/sq. ft. for a human door and 0.3 cfm/sq. ft. for a window.
In addition to being energy efficient, Freedom Pet Pass doors are designed to last for years. Pet doors are subject to extremely rough use, as big dogs can bang through the door dozens of times every day. Freedom Pet Pass makes wall-mounted and door­ mounted pet doors in sizes that can accommodate the smallest cats and the biggest dogs.