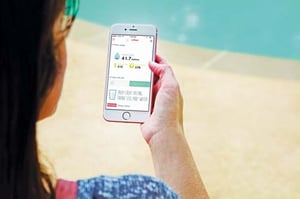 Franke's StillPure, a water filtration system with Bluetooth connectivity and a corresponding mobile app, is designed to help improve consumers' health by removing pollutants. It also reduces further pollution by empowering homeowners to track and cut back on water and water bottle usage.
Providing app users with usage data, StillPure makes consumers more conscious of the volume of water they're using daily. To further incentivize sustainability, the app also lets users know how many plastic water bottles they would have used and the amount of money they would have spent on water bottles had they not used StillPure.
StillPure also generates Bluetooth-driven notifications for upcoming filter changes, and offers one-click ordering, with the ability to have new filters arrive directly to the user's door. This helps make water is as pure as possible, because the filter is working and up to date.