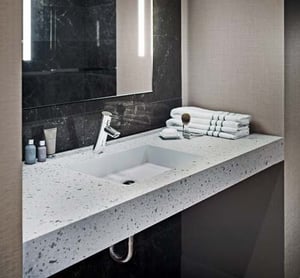 With a continuing eye toward recycling, Formica Corp.'s Smart Organics palette from its new SurfaceSet 2018 line takes a scientific approach to environmental consciousness. Smart Organics' Paper Terrazzo patterns use small fragments of post-production solid color paper from formica laminate that would otherwise have gone to waste. Remnants are chopped into tiny fragments and directly placed on top of a solid to create a terrazzo-look laminate.
The Smart Organics palette also includes three Bubble design patterns, in which printing inks were mixed with soap and bubbles, then blown on industrial grade paper. The laminates are offered in natural and man-made greens, grays and warm tones in colors such as green slate, weathered fiberwood and enamel.
The laminates look real, too. Paper Terrazzo is created in small-batch craft production, so that each sheet is unique and natural. Paired with a unique Paper finish, the Paper Terrazzo patterns offer a low sheen-in register finish. The Paper texture enhances the real paper effect with synchronized texture. The production pressing process results in a low sheen finish with slightly raised areas that result from the individual embedded paper fragments.
Smart Organics stems from Formica's Reclaimed Denim Fiber effort in 2015, in which scrap indigo-dyed cotton—a vital component of paper making—was incorporated into the production process. About 60 percent of the overlay included recycled content.