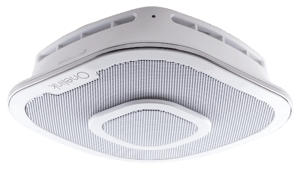 First Alert's Onelink Safe & Sound combines first-rate protection from smoke, fire and carbon monoxide (CO), with exceptional audio capabilities and compatibility with the top connected home platforms. The alarm combines premium home speakers and hands-free voice commands.
The Onelink Safe & Sound is the first smoke and CO alarm with fully enabled Amazon Alexa, as well as a model that works with the Google Assistant. Additionally, both models are compatible with Apple HomeKit.
Unlike other smoke and CO alarms in the connected home space, the Onelink Safe & Sound is compatible with many existing interconnected hardwired alarms. Consumers don't have to re-install or purchase all new alarms if they desire smart home technology. Each alarm, installed easily thanks to an integrated adaptor plug, automatically activates other hardwired alarms in the home when an emergency is detected.
Compare to other smart alarm products, the Onelink Safe & Sound offers superior audio capabilities through premium home speakers. With proper ceiling installation, the alarm provides consumers with an exceptional sound experience in their homes thanks to a natural acoustic backdrop.
The enhanced audio and virtual assistant platforms offered by the Onelink Safe & Sound ensure that people will never think of their smoke and CO alarm in the same way again. What was once an often overlooked safety product is now a safety and entertainment device.