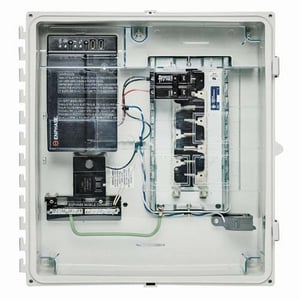 When it comes to energy use, what is a house really up to? Enphase Energy's IQ Combiner+ and the IQ Envoy keep tabs on a home's power usage and production.
The Envoy provides in-depth monitoring, energy usage insights, remote update capabilities and load management. It has flexible networking that supports Wi-Fi, Ethernet or cellular connectivity. The Envoy also provides production metering and optional consumption monitoring and supports installation of the Enphase Q Aggregator.
The Enphase IQ Combiner+ with IQ Envoy consolidates interconnection equipment into a single enclosure and streamlines photovoltaic (PV) and storage installations by providing a consistent, pre-wired solution for residential applications. It comes with an Eaton BR series panelboard interior including up to four 2-pole branch circuits for 240 VAC plug-in breakers, for a combined 80-amp total PV or storage branch circuits. The IQ Combiner+ comes with a NRTL-certified NEMA type 3R enclosure, has a five-year warranty and is UL listed.
IQ Envoy connects each component to create a seamless home energy solution. This includes microinverters, Enphase Enlighten software—which makes it easy to track energy production and consumption—and accessories like Field Wireable Connectors that make Enphase installations simple, reliable and cost-effective. The Enphase AC Battery completes the home energy solution.