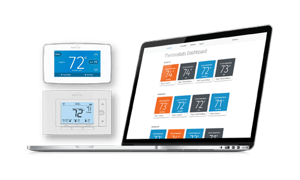 Managing multiple thermostats across multiple locations can be a demanding and time-consuming job for apartment managers who need to balance the comfort of their occupants with energy conservation and available manpower. With Emerson's Sensi Multiple Thermostat Manager, heating and cooling needs can be quickly met across multiple locations.
The product is a software application that helps control multiple heating and cooling systems through one convenient online portal. The software works with Sensi Wi-Fi thermostats to provide an affordable HVAC management solution for locations with multiple HVAC systems.
Since the thermostats don't have to be adjusted manually, the business can save time, energy and money. By making simple adjustments in a seamless interface that impacts multiple thermostats at once, facilities no longer have to rely on janitorial or evening staff to adjust every thermostat to keep the system from running overtime on evenings or weekends. Users can also enable optional notifications that let them know when and where extreme temperature or humidity changes are detected in their buildings.
Thermostats can be locked and unlocked to prevent tampering, and to control heating and cooling costs. Thermostats can be changed in batches and can be monitored in real time.
Unlike traditional costly large-scale building management systems, the Sensi Multiple Thermostat Manager does not require additional costly hardware. It only requires Sensi Wi-Fi thermostats, which are easy to install. Sensi thermostats are designed to work with most heating and cooling systems.