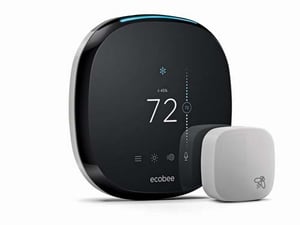 ecobee has always been on the smart side with its thermostats. Now people get to talk about it. The company's latest incarnation, the ecobee4 Pro, is the first thermostat with built-in Amazon Alexa Voice Service (AVS).
Users can verbally ask Alexa to warm or cool the home, order groceries, read the news and more. If Alexa isn't the vocal servant of choice, homeowners can use Siri through Apple HomeKit or Google Assistant instead.
Like its predecessor, the ecobee4 Pro comes with a Room Sensor to help with hot or cold spots throughout the home. The sensor measures temperature to deliver comfort to the rooms that matter most. It also keeps energy use low when no one is home, cutting heating and cooling costs by up to 23 percent each year. Homeowners can feel good about maximizing their comfort at home while minimizing their ecological footprint.
The ecobee4 is compatible with most HVAC systems, including radiant heat units, multi-stage and dual fuel heat pumps. It also comes with a Power Extender Kit, meaning it's not dependent on another device
for recharging.