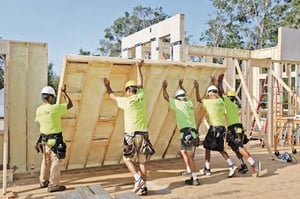 PUReWall from Covestro LLC is a high-performance, insulated structural wall panel that is a more cost-effective and energy-efficient alternative to a traditional panel wall assembly.
These panels replace traditional exterior sheathing and house wrap with a combination of polyisocyanurate (polyiso) continuous insulation on the exterior and structural spray polyurethane foam (SPF) in the wall cavity. This creates a robust, high-performance wall using only a 2-by-4 stud with 24-inch on center placement.
PUReWall panels are structurally comparable to a traditional wall assembly in racking strength. With appropriate structural connectors, the panels can be engineered for use in all regions of the United States.
The panels offer design flexibility to meet current energy codes, including requirements for continuous insulation. PUReWall panels can be designed to perform well byond existing building codes, making them a good fit for net-zero and passive home designs. The panels also provide increased R-value and decreased air infiltration in the wall assembly, contributing to a higher Home Energy Rating System (HERS) index score. They also have minimal potential for condensation in the wall assembly in hot/humid and cold climates versus conventional wall assemblies.
PUReWall panels are manufactured at a panelization facility, in a controlled environment, and installed at the construction site. This alleviates jobsite workforce bottlenecks, produces less waste, requires less wood use and results in a faster framing time for builders.