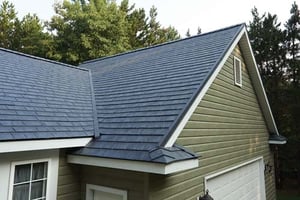 Among the most energy-efficient roofing options available today, CertainTeed's Matterhorn Metal Roofing replicates the architecture and charm of traditional wood shake, slate and barrel tile roofing
while providing superior wind, fire and impact resistance.
Green elements abound: Matterhorn roofs, coated with a PVDF Tri-Pigment Reflective Paint System, reflect more of the sun's rays than traditional roofing. This lowers roof surface temperatures by 50 °F to 70 °F.
The roof's ability to re-emit up to 89 percent of absorbed heat also prevents excess warmth from escaping into the home. This reduces air conditioning needs, lowers energy bills and improves indoor comfort. It also cuts down on the generation of electricity—responsible for 29 percent of all greenhouse gases—and more than doubles the average roof lifespan.
Roofs built with Matterhorn Metal Roofing have a useful life expectancy of more than 50 years, eliminating the construction
waste that comes with replacing the average 20-year roof.
Matterhorn is also 100 percent recyclable. The product is available in shake, slate and tile varieties.