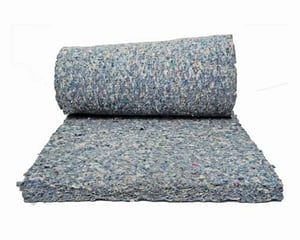 CarpetCycle, known for safely removing, collecting and recycling carpet and post-consumer building materials, is now putting that product to Earth-friendly use. Quiet-Tech is an acoustic carpet insulation made from 85 to 90 percent post-consumer recycled materials. More than 4 billion pounds of carpet waste enters the environment annually, and Quiet-Tech helps divert some of that waste from landfills by taking used material from the floor and putting it right back into building walls.
Quiet-Tech is environmentally friendly, safe for construction workers and provides noise reduction qualities. It meets all requirements for UL Greenguard Gold certification for ultra-low chemical emissions, contributes to LEED and WELL credits, and holds a Class A fire rating. It can improve Sound Transmission Class (STC) by nine points and has a Noise Reduction Coefficient (NRC) rating of 0.95.
The product does not contain volatile organic compounds (VOCs) or inhalable airborne material, making it safer for a working environment. It is also mold and mildew resistant.
Designed for use in metal or wood frame construction, Quiet-Tech's friction fit insulation batts provide ease of installation without the need for fasteners and adhesives.