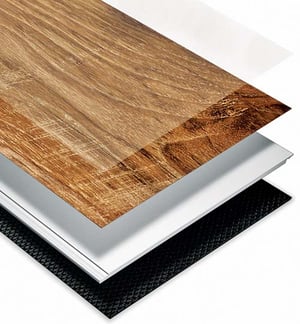 Finding a way to emphasize the beauty of hardwood flooring while using fewer trees, Cali Bamboo has developed GeoWood, revolutionary, engineered hardwood that pairs real timber with GeoCore—Cali's stabilizing limestone composite foundation. This technological breakthrough yields rock-solid hardwood flooring with AquaDefy water resistance technology at a lower price point than solid wood planks.
The beauty layer atop each plank is up to 1.2-mm thick and features sustainably farmed woods and lumber from Lacey Act-compliant managed forests. All flooring is ultra-low VOC with no added urea formaldehyde and employs adhesives that fall well below E0 emissions standards.
Cali Bamboo's proprietary limestone composite fortifies each GeoWood plank and helps it resist indentation from high heels, pet claws and furniture. Its composition translates to 50 percent better dimensional stability, meaning less expansion and contraction, and as little as 24 hours of acclimation is required before laying down planks.
AquaDefy technology ensures diehard moisture protection, making GeoWood perfect for bathrooms, kitchens and below-grade spaces like basements. Superior water resistance also makes planks more resilient and easier to clean. The flooring is backed by a 50-year residential warranty, double the industry standard.
Now there's an indoor floor tile that can be reused as often as the homeowner wants. FLOR's carpet tile product has a modular design that allows constant redesign to suit situational or personal needs, without the need to buy more expensive, often environmentally unfriendly replacements—as well as keeping waste material out of the landfill.