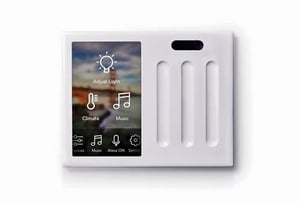 Remember the remote-controlled TV? They were huge when they first appeared, and were quickly followed by other remote-controlled products, such as CD players, stereo systems and VCRs. But there were also a bunch of remotes to keep track of. Fast-forward to today, and "technoclutter" exists in the form of smart devices, many of which could one day end up in the landfill.
The Brilliant Control takes the place of an existing light switch to provide touch and voice access for lights, climate, music and other smart home products. Turn on the lights by swiping the screen; play Spotify on the Sonos simply by asking. Since Amazon Alexa, Google Assistant, video intercom, weather reports, baby monitoring, smart lighting, digital displays and other capabilities are included, the home does not need lots of specific appliances such as Echos, Homes, and Dots to do these things in each room. This helps with the home's power footprint and aesthetics.
The product is also packed with sensors that can be used to save energy, such as motion control (auto-shut off can reduce lighting costs by 15 to 64 percent), temperature (can be integrated with Nest and ecobee for room-by-room heating), microphone and speaker, ambient lighting, a camera and more. Power management and measurement are included, and can be used to understand which circuits are using the most energy.
Industries have taken notice. The Brilliant Control has been recognized by the Consumer Technology Association (Smart Home Product of the Year), the National Association of Home Builders (Outstanding Smart Home Product), IoT Innovator (Best Consumer Hardware Product), CE Pro magazine (Best Whole Home Automation), IHS Markit (Best Smart Home Solution), and more.