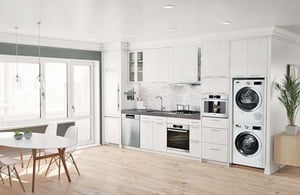 The Bosch Home Connect 800 Series Laundry Pair uses a series of connected features to simplify and perfect doing laundry, while living up to its Energy Star status.
When starting a load of laundry, users simply open the unit's EasyStart feature and select the type of clothes to wash. The connected washing machine recommends the perfect program for the load. Meanwhile, the Home Connect app lets users compare water and energy usage rates and select cycles based on efficiency.
The ability to remotely control and monitor laundry from almost anywhere means users can start or adjust their laundry on the go by using a smartphone or tablet. The laundry pair's 30-minute dirty-to-dry feature, combined with the Home Connect remote control feature, is ideal for active lifestyles.
The washer has earned Energy Star's "Most Efficient" label. The dryer is the only condensation compact dryer recognized by Energy Star.