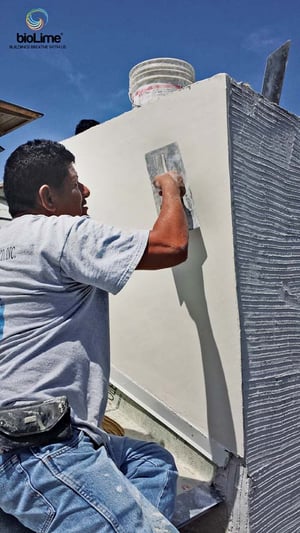 With bioLime's bioStucco, what's old is new again. Made from natural hydraulic and dolomitic lime, select marble powders, pozzolanic aggregates and plant-based resins, bioStucco is a simple yet highly advanced stucco product that takes an idea originating thousands of years ago and moves it into the 21st century.
Ancient homeowners knew that their dwellings required safe, non-toxic, natural protection that could maintain internal temperatures and that could last centuries. Today's conventional materials like cement stucco store heat energy during hot summer months and do the same with cold temperatures during cold winter months—thereby transferring outside extreme temperatures into the wall cavity, causing interior environments to be temperature unstable. In the process, interior climate control systems switch on regularly to stabilize the feeling of comfort indoors.
bioStucco changes all that by becoming a naturally breathable skin on the outside of the building that keeps extreme temperatures from transferring into the wall cavity, reflecting it outward and keeping walls seasonally cooler or warmer. As a result, climate control systems switch on less regularly and allow homes to feel more comfortable, naturally.
The product's excellent vapor transmission maximizes the integrity in sustaining an overall wall assembly and will not promote the entrapment of heat or moisture in a wall system. And, the colorants of the bioStucco finish coating system are chemically inseparable from any color loss due continual UV exposure, and will not fade, crack or peel.