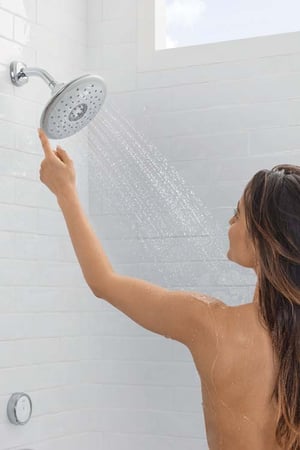 Water-efficient showering comes to the fore with American Standard's Spectra+ eTouch showerhead, which gives full-body coverage while allowing the user to change spray patterns with a simple fingertip touch on the outside ring of the showerhead.
The Spectra+ eTouch, managed by hand or remote, is offered as a standard 2.5 gallon per minute (gpm) model or a water­saving 1.8 gpm option that is WaterSense certified and CalGreen compliant. The oversized, 7-inch showerhead offers four spray patterns: Drench for full body coverage; Sensitive for gentle, soothing coverage; Jet for targeted coverage; and Massage for pulsating coverage. All provide a heavier water spray when they're actually using less.
For added ease of use, the included first-of-its-kind Spectra+ eTouch remote can be mounted on nearly any shower wall to offer convenient, one-touch control over the spray patterns. This stylish remote simplifies and enhances shower accessibility for almost any user, regardless of restrictions due to mobility, height or age.
Both the showerhead and remote control are powered by easily accessible batteries, removable without use of special tools.
It's even easy to install. The Spectra+ eTouch remote attaches to a base plate that is secured to the wall with adhesive tape or with optional screws included in the package.