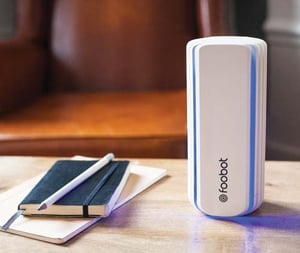 Airboxlab's Foobot is the first air quality monitor which gives users a clear and visual understanding of how good the air quality is in their home—and knowledge that enables homeowners to take small steps to improve it.
Foobot is the only system to measure PM2.5s—particulate matter smaller than 2.5 micrometres—a major source of air pollution resulting from outdoor elements such as exhaust fumes, factories and ash, and indoor enemies such as dust, pollen and pet dander. Daily data is recorded in five-minute intervals and stored in the cloud, so users can get a documented history of what causes spikes in bad air quality in their home. Adding an air purifier enables Foobot to monitor everything which affects indoor air quality, including VOCs, PM2.5s, CO2, temperature, humidity and even less-known items such as carpets and furniture.
Viewed data can then be used to determine what can be done to eliminate pollutants. For example, this could be as simple as opening a window, but with Foobot the user knows exactly when it's required and for how long. It can also encourage changes in behaviour that can lead to better indoor air quality.
Foobot can also work closely with other smart home devices with a connected thermostat, such as Google Nest to control your home's temperature, or Amazon Echo. When pollutants exceed healthy levels, Foobot will relay this information allowing Alexa to talk about the problem to the user via voice and suggest possible solutions. With the help of IFTTT, Foobot can also connect to 120-plus home appliances and the ventilation, filtration and purification systems for further air quality management.