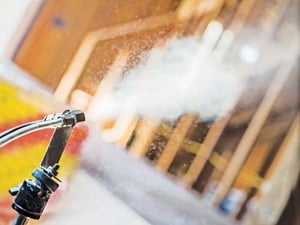 Sealing and insulating a home's building envelope can be expensive and time-consuming, and is subject to human error. Currently, contractors manually attempt to locate small and large gaps in a building's structure to create an airtight seal, but some areas, such as electrical outlets, escape detection.
AeroBarrier's self-titled product is a cutting-edge envelope sealing system that simultaneously measures and seals the building envelope, making net-zero and Passive House levels of envelope tightness possible for any project. AeroBarrier seals holes as small as a human hair, improving acoustics and preventing outside particulates and pollution from entering a building area.
The product measures envelope leakage in real-time, leading to a cost-effective solution to sealing the building envelope that helps reduce mechanical loads, improves energy efficiency and increases renewable energy feasibility for all projects.
Unlike traditional sealing methods, which require an assortment of products used during various stages of the building process—such as insulation, spray foams, wraps, caulking, barrier sheeting and mastics—AeroBarrier can accomplish most of these sealing strategies with a single application. In addition, traditional manual sealing requires numerous workers during various stages of the building process.
AeroBarrier often requires only two to three workers to apply the sealant during a single phase of construction, saving on labor costs.
AeroBarrier is instrumental for single- and multi-family projects targeting the performance requirements of LEED, ZERH, Passive House, and the 2015 IECC or better. The sealant is Greenguard Gold certified.