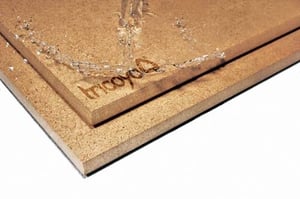 For all their usefulness, versatility and appeal, medium density fiberboard (MDF) panels were forbidden fare when it came to exterior and constant wet-use environments. But the Tricoya MDF panel from Accsys Group breaks that barrier with a virtually waterproof product.
Tricoya uses proprietary acetylated wood technology and a modified MDF manufacturing process to create a super durable, stable wood panel product. Acetylation is a revolutionary sustainable process that increases the number of naturally occurring hydrophobic acetyl groups in the wood cells using acetic anhydride. The process exchanges the hydroxyl groups with acetyl groups, preventing water absorption at these sites, and thus enhancing the dimensional stability and durability of the wood.
Tricoya can be used on a variety of exterior applications that would not normally be considered ideal for any MDF products including façade, cladding, fascia and soffit panels, window components, outdoor furniture, and play frames or tree houses. It can also be used in wet interior applications such as wall linings in swimming pools, bathrooms, wet rooms and changing rooms.
The panels, unrecognizable as a food source for insects and fungal decay, are backed by a 50-year above-ground and 25-year below-ground warranty.