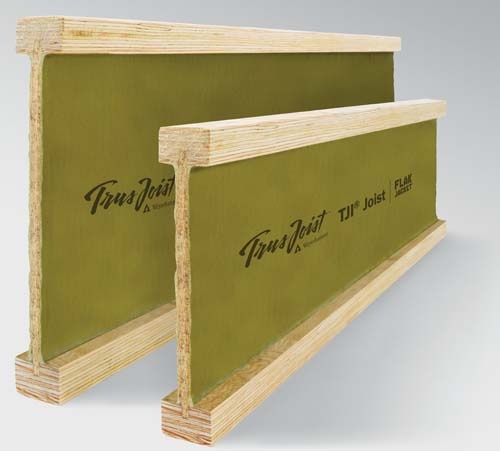 How do you make an already-widely used product even more indispensable? You make it safer. Weyerhaeuser has upgraded its popular Trus Joist I (TJI) with Flak Jacket Protection to improve fire resistance. The product is already a key tool in helping builders create single-family homes that meet ever-changing fire protection codes without using gypsum board or sprinklers.
The new Flak Jacket coating, omitted from the I-Joist's bottom flange, gives builders the ability to install the product in any suitable orientation. This enables them to speed up the construction process while remaining within IRC fire protection code requirements established in 2012.
The new coating also has a cleaner appearance, which builders prefer because the joists are used in unfinished basements. The joists can also be easily drilled and cut on the jobsite for mechanicals and ductwork. And, the product's modifications make it even easier for builders to achieve one-hour floor-to-ceiling assemblies in multi-family applications.