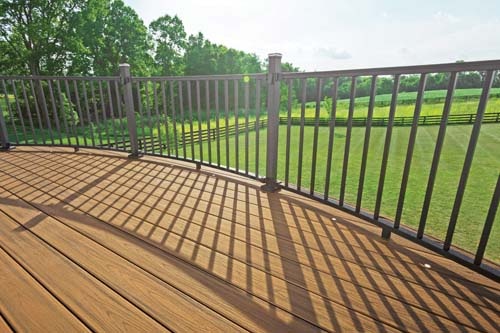 With its new Signature railing, Trex pairs stylish aluminum railing with a deck board top rail to create a durable, low-maintenance, mixed-material look that adds style and functionality.
Trex Signature spans long lengths for panoramic sightlines from decks, patios, balconies and front steps—and can be installed with continuously graspable rail options for added safety, comfort and functionality with a clean, sleek aesthetic.
Aluminum offers superior strength, while the durable powder coating allows the material to retain its color and resist corrosion. This strength allows for further design versatility, as Signature can be curved to create one-of-a-kind outdoor living spaces. The aluminum used to manufacture Trex Signature is made from more than 50 percent recycled aluminum and is a 100 percent recyclable, renewable resource.
For quick and easy job site installation, Trex Signature comes in pre-assembled horizontal panels: 6 feet by 36 inches, 8 feet by 36 inches, 6 feet by 42 inches, and 8 feet by 42 inches. Field testing has shown the panels reduce assembly time by up to 50 percent, or approximately 12 minutes per installed rail section.