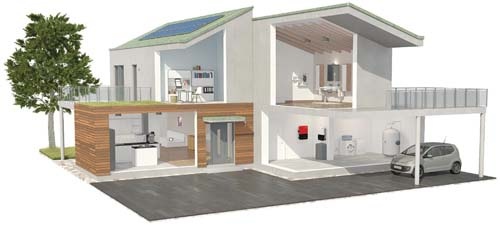 Sometimes, it takes multiple items to form an energy-efficient product. SMA's Smart Home combines the Sunny Boy Storage battery inverter, a Sunny Boy PV inverter and a high-voltage battery to create a structure that becomes net zero.
Each component works together for easy installation, flexible design and operation, and long-term reliability to simplify home energy management. A Smart Home can operate while connected to the grid and off-grid.
When integrated with household appliances, the SMA Smart Home can automatically activate various electrical appliances at ideal points in the day or evening to use inexpensive solar power, instead of using electricity at peak times.
The Sunny Boy battery inverter acts as the interface between the PV inverter and the high voltage battery. An AC-coupled design allows it to be installed or expanded in any location, at any time, whether a PV system is in place. The Sunny Boy PV inverter works in total alignment with the system to ensure effective operation of the intelligent home.
SMA's Sunny Portal allows for easy monitoring and management of the entire Smart Home system—from anywhere. The Sunny Portal offers central management of PV system data and quick diagnosis of potential issues, ultimately saving the homeowner money.