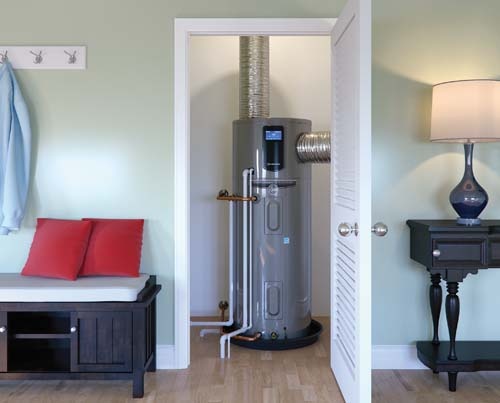 Rheem's new Prestige Series Hybrid Electric Water Heater is warming up consumer attitudes. The unit's touted high-speed hot water system—with first-hour delivery of 70 to 90 gallons, depending on water heater size—far outpaces that of standard electric models.
An Energy Star-rated device, Prestige has an Energy Factor of 3.5, and cuts hot water energy use by up to 73 percent compared to a standard model of similar size. A homeowner will typically save about $4,000 in energy costs over 10 years, and the unit pass for itself in less than two.
But it's not all about money. The Prestige models feature multiple operation modes, including energy saver, high demand and vacation, ultra-quiet usage, a best-in-class, widest ambient operating range (37 to 145 degrees Fahrenheit), and an LCD screen with built-in water sensor alert and audible alarm.
The water heater utilizes the EcoNet Smart Home System, which allows homeowners to control and manage heating, cooling and water heating products via a mobile app or through a wall-mounted control center. EcoNet notifies homeowners when the equipment needs service and provides instant diagnostics, including leak detection. Rheem's EcoNet-enabled water heaters are compatible with Nest products, Wink and Logitech's Harmony hub.