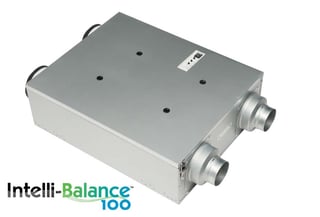 Energy recovery and all-climate are terms that are usually not found in the same sentence. But Panasonic Eco Solutions North America makes that connection with its Intelli-Balance 100 Energy Recovery Ventilator (ERV). Suitable for use in any climate, Intelli-Balance provides truly customizable airflow—balanced, positive or negative pressure—at variable speeds from 50 to 100 CFM.
With a built-in ASHARE 62.2 timing function, the Intelli-Balance 100 helps ensure code compliance and energy efficiency in one cost-effective package. The whole-house ventilation solution helps a structure meet U.S. green building requirements, with minimal impact on the HERS score. It complies with the latest LEED, CALGreen, California Title 24, WA Ventilation Code and Energy Star for Homes 3.0 standards. The system is Energy Star certified in parts of Canada where guidelines exist, and can be connected to existing ductwork or used as a standalone, whole-house ventilation solution.
Intelli-Balance 100 won the Best of IBS Award for Best Energy Efficient Product at January's NAHB International Builders Show in Orlando. Judges reviewed more than 400 products in nine categories when determining a winner.