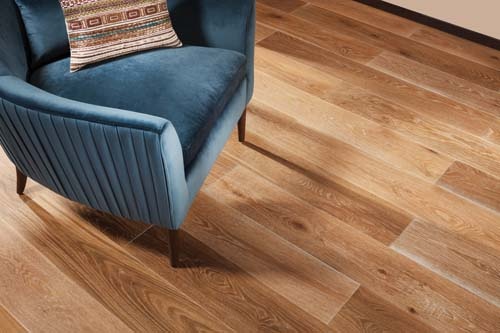 Nydree Flooring's new Wide Plank product emulates the look of solid-sawn wood, but with added stability and longevity. The acrylic-infused slats of Plainsaw White Oak are 300 percent more-durable than traditional wood flooring. This means there will literally be fewer trees needed to cover the floor in future years.
The 7.5-inch-wide planks are also following a "go wide" trend seen in residential, retail and commercial developments. The company notes that wider boards are becoming more popular because they make spaces look larger and more modern.
Consumers also enjoy the "plug and play"-type feel of Wide Plank. The hybrid flooring isn't subject to the acclimation problems of traditional wood—primarily the excessive expansion and shrinkage caused by changes in humidity from the originating site to the new structure's location. It's not unusual for wooden slats to have to merely sit in a room for up to a week until they are ready to use. Nydree Flooring's product, on the other hand, can often be laid down in a day.
Wide Plank is a low-emitting product, CARB Phase 2 compliant, FloorScore and Chain of Custody-certified by Scientific Certification Systems to Forest Stewardship Council standards.