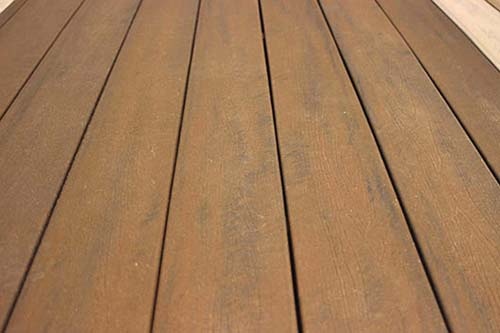 MoistureShield's Infuse line of decking isn't just about colors and texture. The company has introduced a proprietary "heat shield" that keeps the decking from getting excessively hot. The CoolDeck technology optimizes heat reflection, meaning the boards absorb up to 35 percent less heat than conventional capped composites in similar colors.
That can mean a maximum temperature that's almost 100 degrees lower than composite decking without the heat shield additive—a key feature, considering plastic's documented loss of performance and durability when exposed to heat extremes.
MoistureShield composite decking can be installed on the ground, in the ground or underwater while still being protected by a lifetime residential warranty and 25-year fade and stain warranty.
All that said, color and texture do carry some weight. Infuse comes in a realistic wood-grain finish and enriched color variegation, including an enhanced color palette of deep earth tones. It is available in nominal 1 inch by 6 inch deck boards of 12-foot, 16-foot and 20-foot lengths, and 12-foot fascia boards.