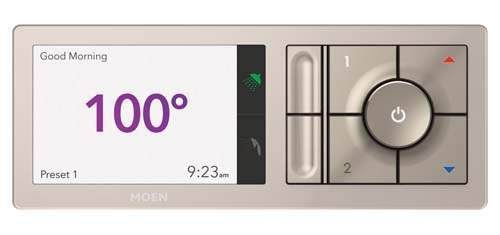 Moen's new U by Moen smart shower looks gadgety at first glance, but it actually has a lot of potential to save water. It's also a reasonably priced upgrade from a standard temperature-balancing valve.
Along with the ability to "hold" hot water at the ready for several minutes in case the user is delayed from actually entering the shower, the intelligent valve system allows the shower to be set to a predetermined length. (Imagine the savings in a home with teenagers.) The product also has potential for water savings in rental properties.
The U by Moen shower's digital valve offers precise, thermostatic temperature control (60 degrees to 120 degrees), and enables the user to connect up to four shower devices (such as showerheads, handshowers or body sprays). The Wi-Fi-connected digital controller features a five-inch, non-touch LCD screen that provides feedback on the shower status through on-screen messaging and notifications. As the shower temperature changes, the screen changes color. When it's white, the system has met the user's preferences.
The valve also has an optional battery backup to keep the shower from shutting off if the power goes out while someone is in it.
A smartphone app enables users to create up to 12 personalized presets, including name, greeting, outlets, temperature, shower timer and notifications. Users can control the shower remotely at the push of a button.
Installers will also have an easier time with U by Moen. Thanks to a 30-foot data cable between the valve and controller, the valve can be placed wherever is most convenient for the plumber and homeowner.