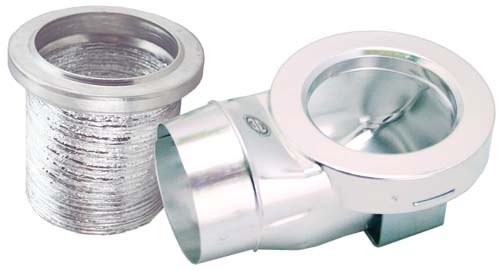 Every once in a while, a product comes along that makes a person say, "where has this been all my life?" That's the case with MagVent's MV-90 coupling, a magnetic solution for connecting drier vent hoses in hard-to reach locations. It's a no-frills product with no moving parts. But it's an awesome tool.
When replacing or installing a dryer in a custom enclosure, many people have struggled with a problem where it's impossible to push the unit in and still reach the vent outlet. MagVent's self-aligning magnets allow remote connection of the dryer to the wall, eliminating the need for a long transition duct, which usually gets crushed when the machine is moved toward the wall.
On top of practicality, the MV-90 also has potential for greatly reducing dryer vent-related house fires. According to the U.S. Fire Administration, nearly 3,000 such fires start each year, and 38 percent of those are caused by lack of cleaning. With MagVent's MV-90, people may be more likely to pull the unit out, clean out the hose, and push it back into place. This will also increase dryer efficiency and make mold-causing leakage less likely.