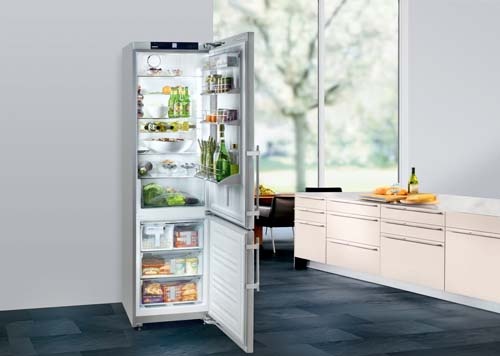 A tiny kitchen does not mean being stuck with an even tinier refrigerator and freezer. Liebherr's CBS 1360 unit fits in narrow spots—it's a mere 24 inches wide and a hair less than 25 inches deep—yet still offers a combined 13 cubic feet of storage space.
The Energy Star-rated CBS 1360 uses Liebherr's patented BioFresh technology, which controls separate interior environments for food and produce to keep everything fresh up to three times longer than a conventional refrigerator. If the homeowner wants to put food into cold storage quickly, the 1360 has a flash-freezing SuperFrost mode, which drops the freezer temperature to as low as minus 25 degrees Fahrenheit. Also, Liebherr's FrostSafe system prevents cold air from escaping when the door is open.
BioFresh can also be controlled with an app available from the App Store and Google Play. The app also provides valuable nutritional info and food storage suggestions.
Users will hardly know the 1360 is even in their kitchen, due to its SuperQuiet technology. The environment won't notice it much, either: This Liebherr unit, on average, uses about 490 kWh of electricity annually, for an average yearly operating cost of about $47.