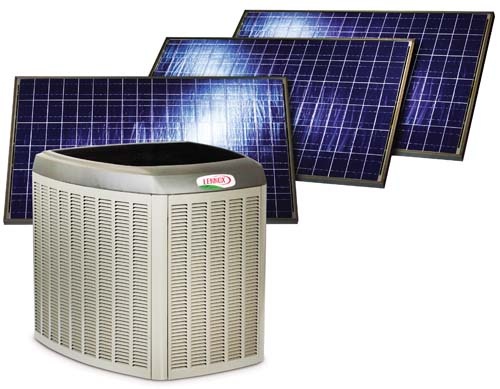 There are a lot of tantalizing possibilities in solar-powered heat pump technology becoming a primary heating and cooling method. Lennox is jumping on this concept, offering a turnkey system that takes some of the guesswork out of early adoption.
The SunSource Solar-Powered System relies on roof-mounted solar modules to harness sustainable solar energy to run heating and cooling as needed. Other times, the energy goes to other devices, such as lighting and appliances.
The system is best designed for use with a high-efficiency air conditioner or heat pump from the Dave Lennox Signature Collection. SunSource units come solar-ready, which means an owner can add solar modules to create a solar energy system as soon as they want one. Owners can start with as few as two modules, then gradually work up to as many as 15 per unit as needs change.
That decision could be a bit easier thanks to an included communications module, which enables homeowners to monitor energy production and environmental benefits online in real time. The module tracks current power status and energy level, along with totals for the month and year to date.
Being a grid-tied photovoltaic system, SunSource still needs utility-provided electricity whenever the unit is not functioning, such as at night. That said, if SunSource generates more electricity than is needed—and if the owner lives in a locale with net metering and where utilities buy excess power—there could be a financial bonus with this system.