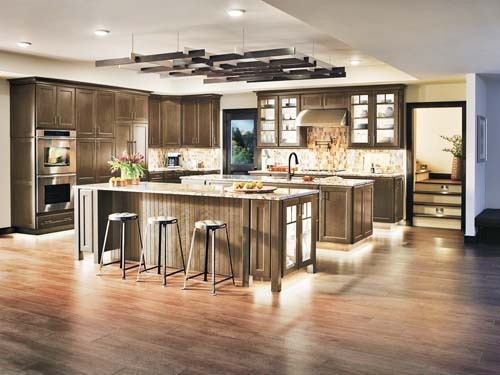 If recessed lighting is a problem or simply not to your liking, Kichler has an alternative. The company's Low-Profile LED Downlight—1 inch thick and 7.5 inches wide—can blend into the background when installed on your ceiling.
The Low-Profile LED Downlight provides excellent light output with 1,000 lumens, making it ideal for ceilings greater than 9-feet in height. The light is dimmable to 10 percent of total brightness, enabling homeowners to easily lower the light level to suit their needs. The product is Energy Star certified, and is Title 24 and FCC Compliant. And it's interior wet rated, making it suitable for bathrooms, laundry rooms and other damp locations.
As a perk to installers, the Kichler downlight offers easy J-Box installation for new homes. This equates to fewer materials, quicker connections and the ability to quickly move on to the next installation. For renovations, Kichler features a retro-fit kit to allow the fixture to easily snap in and cover existing recessed housings.